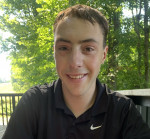 Name:
Cole
What Special Olympics sports do you participate in?
Basketball, Softball, 5 pin Bowling and Alpine Skiing
What is your happiest/proudest Special Olympics memory?
Winning a Gold Medal for Slalom skiing at the Provincials at Sault Ste Marie
How do you like to spend your time outside of Special Olympics (jobs, hobbies, activities, etc)
Working at Schell Lumber and Packpro; fishing, playing basketball in the driveway, video games, WWE, and working out at the gym
What do you love most about motionball events?
I like being part of a team