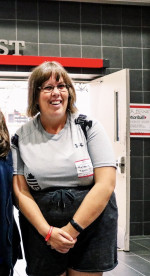 Meet Melanie a Special Olympics athlete who represents the 50,000 Canadians with an intellectual disability who participate in Special Olympics programs. Your support is ensuring athletes like Melanie can get back to the playing field, and that no one is left behind.
What Special Olympics sports do you participate in?
Swimming, Bowling and Volleyball
What is your happiest/proudest Special Olympics memory?
Some of my favourite Special Olympics memories include competing in the Special Olympics Provincial Games, in Kingston, back in 2012, where I earned 1 Bronze, 1 Silver , and.....4 GOLD MEDALS, and earning me a spot on the National Team in 2014, where I this time earned 5 BRONZE MEDALS IN FRONT OF MY GRANDPARENTS WHO WERE CELEBRATING THEIR 90TH BIRTHDAYS AT THE TIME. I also thoroughly enjoyed helping with the development of the Gatineau Chapter of Special Olympics, the list just goes on and on
How do you like to spend your time outside of Special Olympics? (jobs, hobbies, activities, etc)
I JUST LOVE to watch Airplanes at the Airport, spend time in the Pool and Gym of my apartment building, going for bike rides on my Adult Tricycle. I also have a part-time job working as a Secretary-Receptionist for a French Agency that helps people with developmental disabilities finding housing and employment opportunities, and I also have VERY BIG AND HUGE INTEREST IN EMERGENCY VEHICLES AND SERVICES.
What do you love most about motionball events?
What I love most about Motionball is I get to share my story of it truly means to me to be in Special Olympics, and how they've greatly helped me boost my levels of self-esteem and confidence to levels otherwise absolutely impossible to reach, and now thanks to Special Olympics I'm now an ambassador for the movement, so attended many speaking opportunities, which include both in French and English.