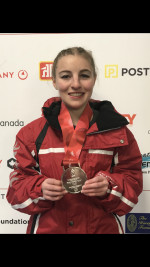 Meet Taylor, a Special Olympics athlete who represents the 50,000 Canadians with an intellectual disability who participate in Special Olympics programs. Your support is ensuring athletes like Taylor can get back to the playing field, and that no one is left behind.
What Special Olympics sports do you participate in?
I participate in figure skating, track and field and bowling
What is your happiest/proudest Special Olympics memory?
Winning a silver medal at Nationals in Thunder Bay for figure skating
How do you like to spend your time outside of Special Olympics?
I spend a lot of time on the ice because I love it so much but I also dance. I love spending time with my family especially travelling and my friends. Me and my dog Keeva spend a lot of time together too. I keep in touch with all my friends from other places that I have met through Special Olympics on FaceTime or texting. I also have a website called taylorstravels (Find me on Instagram) that I post lots of my travel pics on and am selling patches and stickers to raise money for Special Olympics
What do you love most about motionball events?
I've never participated in one before but I love to be active and meet new people even virtually.