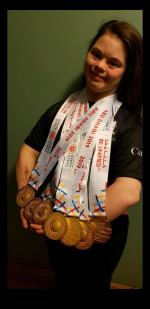 Meet Sophie a Special Olympics athlete who represents the 50,000 Canadians with an intellectual disability who participate in Special Olympics programs. Your support is ensuring athletes like Sophie can get back to the playing field, and that no one is left behind.
What Special Olympics sports do you participate in?
Rhythmic gymnastics, alpine skiing, golf
What is your happiest/proudest Special Olympics memory?
When I won 7 gold medals in the top level for Canada in rhythmic gymnastics at Special Olympics World games last year in Abu Dhabi! The Senate recognized me and I was so proud to represent Canada!
How do you like to spend your time outside of Special Olympics? (jobs, hobbies, activities, etc)
Before COVID I worked at a fitness centre in the Bistro and reception. I loved it! Now I am an expert on zoom and MS Team. I also am a student at Algonquin college, I love dancing and take ballet and pilates. I'm a member of a canoe club and do paddling every week on the Gatineau River. My hobbies are photography, cooking, doing art and watching youtube videos. Of course, I really like being with my friends and hope to see them when the virus is gone.
What do you love most about motionball events?
I love doing the different sports with awesome people supporting Special Olympics.