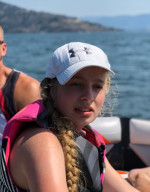 Meet Isabelle, a Special Olympics athlete who represents the 50,000 Canadians with an intellectual disability who participate in Special Olympics programs. Your support is ensuring athletes like Isabelle can get back to the playing field, and that no one is left behind.
What Special Olympics sports do you participate in?
I play basketball and softball. I also love running events in track and field. I participate in rhythmic gymnastics and tried snowshoeing this winter for the first time!
What is your happiest/proudest Special Olympics memory?
There are so many memories! I am so happy playing basketball with the adults even though I am the youngest. I think I am getting better and better. I also am proud when I win medals in track!
How do you like to spend your time outside of Special Olympics? (jobs, hobbies, activities, etc)
I spend my time going to school. I like all my classes in school but I really like math. I spend time with my dog going on hikes. I like to be with my family playing games or cards, swimming, kayaking and I like to read. I also really like movies and shows about love.
What do you love most about motionball events?
I only did motionball once and it was so fun. I got to play with a team and do so many different sports and games. I really liked road hockey. I got to play in every game and my team passed to me!