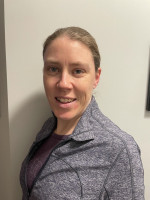 Meet Catherine, a Special Olympics athlete who represents the 50,000 Canadians with an intellectual disability who participate in Special Olympics programs. Your support is ensuring athletes like Catherine can get back to the playing field, and that no one is left behind.
What Special Olympics sports do you participate in?
Track and field, Golf, Snowshoeing
What is your happiest/proudest Special Olympics memory?
Winning a Gold medal on Canada Day in Athens, Greece at the World Games in 2011.
How do you like to spend your time outside of Special Olympics? (jobs, hobbies, activities, etc)
I am currently not working due to the pandemic. I like to work out, train for track/snowshoeing, ice skate, crafts, puzzles and bake and use the stationary bike for spin classes
What do you love most about motionball events?
Meeting new people and reconnecting with old friends and having fun participating in the activities