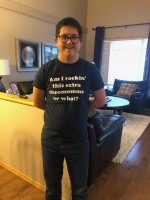 What Special Olympics sports do you participate in?
Basketball, track (in the past & through SO in the school), snowshoeing (SO through the school)
What is your happiest/proudest Special Olympics memory?
Receiving his 1st place ribbon at track meeting for 50 M. Also any time he gets to participate in Motionball events!
How do you like to spend your time outside of Special Olympics (jobs, hobbies, activities, etc)
Spending time at the lake, cycling, gaming, listening to music and Dancing, yoga
What do you love most about motionball events?
Being on a team, the encouragement and support from everyone and how much FUN it is - and the music and dancing