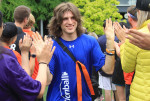 Name:
Zackery
What Special Olympics sports do you participate in?
Speed Skating, Track and Field
What is your happiest/proudest Special Olympics memory?
Being picked for the Team Canada Training Squad for Speed Skating
How do you like to spend your time outside of Special Olympics (jobs, hobbies, activities, etc)
A lot of my hobbies include playing video games with my brother, drawing, and going to movies with friends. I am also attending a trade school to be a certified Pet Groomer Technion. I like being outdoors and I love Inline skating and Speed Skating as well.
What do you love most about motionball events?
I really love joining a team and doing all the fun activities