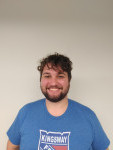 Name:
Daniel
What Special Olympics sports do you participate in?
Powerlifting
What is your happiest/proudest Special Olympics memory?
Deadlifting 407.5lbs national games in Antigonish Nova Scotia 2018
How do you like to spend your time outside of Special Olympics (jobs, hobbies, activities, etc)
Work at starbucks, build model kits, play video games, listen to music to name a few
What do you love most about motionball events?
The awareness they bring to Special Olympics and individuals with developmental disabilities