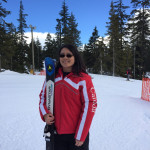 Name:
Susan
What Special Olympics sports do you participate in?
I participate in alpine skiing and track and field
What is your happiest/proudest Special Olympics memory?
My proudest moment was getting to compete in the 2017 World games in Austria and winning a bronze medal
How do you like to spend your time outside of Special Olympics (jobs, hobbies, activities, etc)
I like to play with my dog, Simba, watch movies and shows, and make Youtube videos.
What do you love most about motionball events?
I love that we can come together as a community and have fun