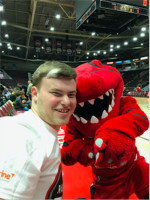 Meet Matthew, a Special Olympics athlete who represents the 50,000 Canadians with an intellectual disability who participate in Special Olympics programs. Your support is ensuring athletes like Matthew can get back to the playing field, and that no one is left behind.
What Special Olympics sports do you participate in?
Basketball, Baseball, Track & Field, and Swimming
What is your happiest/proudest Special Olympics memory?
Attending the Motionball gala! Also, participating in annual Motionball activities! I was part of the Special Olympics MacMaster Intramural Unified Basketball Challenge in 2020 (right before the pandemic shutdown) and our team made it to the finals! I also participated in OFSAA --Track & Field in both sprinting and shot put events.
How do you like to spend your time outside of Special Olympics? (jobs, hobbies, activities, etc)
I love going to see any sporting events --Raptors, Blue Jays, Leafs games! My hobbies include video gaming and woodworking. I have made several epoxy tables! During the winter, I ski and love going down the black diamond hills! Also, I look forward to going to the Car Show and Boat Show every year! "
What do you love most about motionball events?
I'm an outgoing guy and love meeting new people at Motionball events and making new friends, plus seeing old friends too!