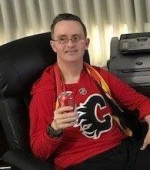 Name:
Stephen
What Special Olympics sports do you participate in?
Bowling
What is your happiest/proudest Special Olympics memory?
He's had many over the years but the one he's most proud of is having the MotionBall trophy in his name.
How do you like to spend your time outside of Special Olympics (jobs, hobbies, activities, etc)
Steve loves watching sports. He loves the Flames and the Stampeders. Other than that, he likes writing in his diary, listening to music and playing computer games.
What do you love most about motionball events?
It's a lot of fun… everybody is so friendly.