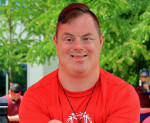 Name:
James
What Special Olympics sports do you participate in?
Basketball, swimming, soccer, Bocce, power lifting, Club fit, and online activities.
What is your happiest/proudest Special Olympics memory?
Gold medal in powerlifting at the provincial games.
How do you like to spend your time outside of Special Olympics (jobs, hobbies, activities, etc)
I work one day a week. I work out with my dad, I walk my dog Sally, I watch wrestling, I spend lots of time making playlists and looking up new artists on my computer. I see my friend Thomas and I talk to my other friends on the phone, I help around the house and garden. I help with my nieces and nephew..
What do you love most about motionball events?
Getting together with a bunch of fun people and playing sports and having a great time.