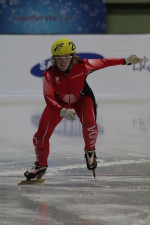 Name:
Katie
What Special Olympics sports do you participate in?
speed skating and track & field
What is your happiest/proudest Special Olympics memory?
going to the words been to 3 worlds and skating with Catriona Le May Doan.
How do you like to spend your time outside of Special Olympics (jobs, hobbies, activities, etc)
i love music, reading, workout. I work full time as a teacher aide with kids with special needs.
What do you love most about motionball events?
being with the team and have fun!!!