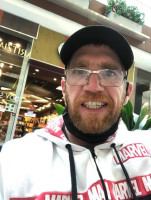 Name:
Jonathan
What Special Olympics sports do you participate in?
I do 5 pin Bowling, Athletics Advanced, Bocce, Snowshoeing, Curling, Soccer, Health & Wellness Swimming Advanced
What is your happiest/proudest Special Olympics memory?
Nova Scotia Newfoundland
How do you like to spend your time outside of Special Olympics (jobs, hobbies, activities, etc)
I Walk My Dog Farley, see movies and hangout with Friends
What do you love most about motionball events?
They are So Much Fun