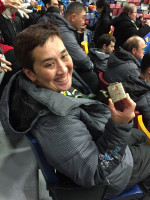 Name:
Alison
What Special Olympics sports do you participate in?
I have participated in many different sports over the years. Before Covid, I participated in Floor Hockey, Developmental Weight Training, Club Fit, Softball and Running Club.
What is your happiest/proudest Special Olympics memory?
I joined Special Olympics in 1991 and have happy memories of winning medals at Provincial and National Games over the years. My happiest memory is winning the Gold Medal in Floor Hockey at the 2016 National Winter Games in Corner Brook, Newfoundland & Labrador
How do you like to spend your time outside of Special Olympics (jobs, hobbies, activities, etc)
I love to keep active. I enjoy reading, baking, pottery, drawing and painting, working on Brain Games activity books, crafts and making walking sticks from fallen tree branches. I love my job with Meals on Wheels. I love spending time with my family and friends.
What do you love most about motionball events?
I love to meet people who support Special Olympics. I love to try different types of sports. I love the spirit of friendship and community when I participate in motionball.