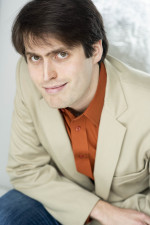 Meet Alec, a Special Olympics athlete who represents the 50,000 Canadians with an intellectual disability who participate in Special Olympics programs. Your support is ensuring athletes like Alec can get back to the playing field, and that no one is left behind.
What Special Olympics sports do you participate in?
I participate in track and swimming.
What is your happiest/proudest Special Olympics memory?
I won gold medals for the 800 and 1600 meters in Thunder Bay, so I qualified for Internationals, but it was cancelled due to the pandemic and the Russian war.
How do you like to spend your time outside of Special Olympics? (jobs, hobbies, activities, etc)
I like to work on my projects. I'm making a comic book called Bat-Hound & Robin. I like training my dogs, playing my guitar, playing computer games and painting. Also, I play the piano and sing. I like to cook and bake.
What do you love most about motionball events?
It's fun to be on a team and compete against each other.