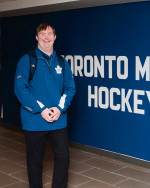 Name:
Peter
What Special Olympics sports do you participate in?
Basketball, swimming, alpine skiing and baseball
What is your happiest/proudest Special Olympics memory?
When I participate in tournaments. It is great to be with my team!
How do you like to spend your time outside of Special Olympics (jobs, hobbies, activities, etc)
I work with the Toronto Maple Leafs equipment staff. I love my job! I like to paint with water colours. Waterskiing and tubing is something I really enjoy in the summertime. Biking is also on my favourite things to do list.
What do you love most about motionball events?
This is my 6th year participating in the motionball Marathon of Sport. I absolutely love this day and it is because everyone has so much fun! The people on all the teams are always so amazing and kind. It is my favourite thing to do every year!